Chinese Artists Society of Toronto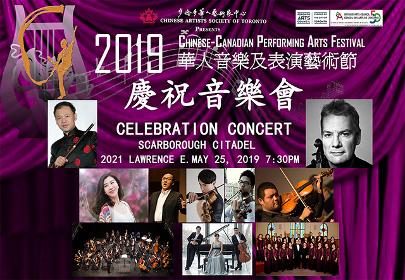 Organized by the Toronto Chinese Artists Center, the annual "Toronto Chinese Music and Performing Arts Festival" has been around for more than a decade.
Over the past decade, dozens of famous Chinese and foreign artists have gathered in the festival; more than 100 beautiful music pieces have been played on the stage. The "Celebrating Concert" will be kicked off this year's series of seven concerts of the festival, played the overture. This concert will be an art feast that spans the times, crosses borders and crosses styles.
DATES & TIMES
May 25th @ 7:30pm
VENUE
Salvation Army Citadel Scarborough
TICKETS
Call 416-733-4644 .
Email cast.contactus@gmail.com .
Tickets are $30 , VIP ($88) .
Ticketing locations:
1. Pro-Music, 5051 Hwy 7 East, Unit 1B, Markham ( opposite Markville Mall , west of McCowan )
2. HomeLife Landmark Realty Inc. Dapeng Real Estate, 7240 Woodbine Ave., Unit 103, Woodbine & Steelcase ( Monday Friday 9 AM-9pm , Saturday 9-5 PM , Sunday 10-4pm)
3. Made Nutri- Canadian specialty features, 3636 Steeles Ave. E., Unit 1
Chinese Artists Society of Toronto